Help Your Baseball Player or Softball Player Get The Most Out Of Their Ability
Developing muscle memory and improving timing, hand-eye coordination, bat speed and confidence at the plate is a must. That's exactly what the Personal Pitcher was designed to do. Positive results in DAYS!
The Personal Pitcher Pitching Machine is a small wiffle ball auto feed machine designed to improve hand-eye coordination, timing and bat speed for baseball and softball players of all ages and skill levels. The Personal Pitcher has 4 adjustable speeds that will simulate fastballs, left-handed and right-handed curveballs from 15-95 mph.
Easily mounted on any standard camera tripod or on a table top with our adjustable feet, the 55-ball capacity and auto-feed features make it easy for a single player to enjoy hours of hitting on their own virtually anywhere. Set the height of the tripod at a lower height for softball or a higher height for baseball to mimic the pitchers release. It's lightweight and portable, making it the perfect choice for pre-game warmups or even backyard, garage or basement batting practice.
The Personal Pitcher comes with four dozen small balls, an A/C adapter, a 4-hour rechargeable battery, a full coverage 1-year warranty and a 30-day money back guarantee.
Moms and Dads of kids ages 5-20 love our product because:
Kids can use it on their own for both batting and fielding practice (it's auto-feed; no parent needed)
Kids can use it in their backyard, basement or garage (in the safety of their own home and not break things cause the balls are so lightweight and small)
Parents save a ton of money on batting cages, gas to get there and time of sitting there waiting
Best of all it really works (The kids experience increased confidence and become better hitters at the plate!)
Our Very Own Kid Hitter Success Story
At age 11, I wanted to be a Big League ball player – all I ever wanted to do was play ball. I'd practice for hours after school. I'd beg my Dad to take me to the cages but with little dispensable income, and both of my parents working all the time, it wasn't possible. Dad, being the smart engineer, took some old computer parts and hobby-shop motors and wheels from the garage and built me what was to be the first Personal Pitcher.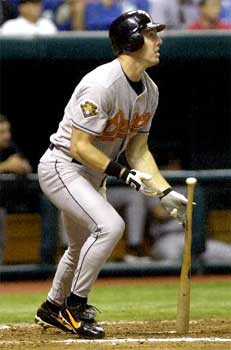 I was small for my age, so I had to be good. The Personal Pitcher helped me make it through every level of baseball, and in 1995 I was drafted out of Oklahoma State by the St Louis Cardinals. I played 15 years professionally, and today I spend my time helping others achieve their dreams. If you have a son or daughter that wants to make the All Star team, get a College Scholarship, or even get drafted, the Personal Pitcher is THE pitching machine for them.